(Revised and Republished from The Fifth Chapter Blog, original date 8/8/12)
Since this blog was first written in 2012, I have experienced how sorrow digs a deep chasm in our hearts. But with a miracle of gratitude, may eventually be filled with joy. I have seen clients with chronic pain, doing the equivalent of daily emotional "chin-ups" to develop gratitude and joy as an antidote to pain.
This blog article was written back when we had sports and Olympics. At a time, not so very long ago when we could measure the progress of a day by something other than how many millions of people in the world have tested positive for Covid-19 or how many thousands have passed away in only a few months.
Back in 2012, I was amazed by women who won a gold medal in Volleyball because they won due to their joy in practicing together. Athletes don't just learn about their game: they practice; they do warm-up drills; they watch other great athletes; they learn from each other; they have coaches that encourage or guide them; and they practice a lot.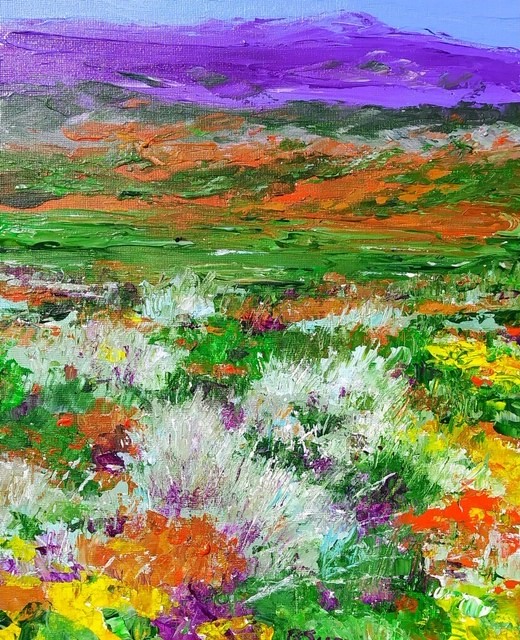 These days I am amazed at the perseverance shown by older clients, friends, and family. I am grateful for my mom, Beth Summers, who gives joy to others through her beautiful plein air oil paintings like this one which she painted during the darkest days of the pandemic.
She was determined to see the poppies this year, so she and a friend drove her RV to a field and uncovered this painting inside herself. The same woman who continues into her 80's to make her own unique mark.
Looks like pure joy to me.

A Fiduciary Practice
The State of California requires individuals seeking a license as a Professional Fiduciary to have a certain level of education and experience. The course of required education covers the laws, ethics, practical considerations, reporting and accounting requirements; and, asset management among many other topics. The purpose of these courses is to promote a higher level of knowledge in the variety of areas we need in order to professionally and essentially deliver fiduciary services.

In addition, professional fiduciaries are required to have regular hours each year in continuing education. There are few better ways to receive this education than by joining the Professional Fiduciaries Association of California and attending the annual and regional education offered by this organization. This gives professional fiduciaries real training to raise the bar on this burgeoning profession.

The longer I practice, the more I realize how much I can learn from others, both in emotional intelligence and in practical skills. This year, I was honored to be invited to speak at the 25th Annual Professional Fiduciary Association of California Educational Conference. Due to Covid-19 it became a virtual conference. Fiduciaries need collaboration and shared learning together, but this year we do it like everyone else – via zoom.
The topic selected was one of those "difficult" cases which my fellow panelists, attorneys Victor Segovia and Nathan Pastor, helped me turn into training for other fiduciaries. It was kind of like turning lemons into lemoncello. Even though we were nervous, wondering if we would hit the mark, in the end what carried us was the pure joy of practicing and learning and sharing knowledge with others. Joy invites practice. Practicing joy makes life a perfect 10.