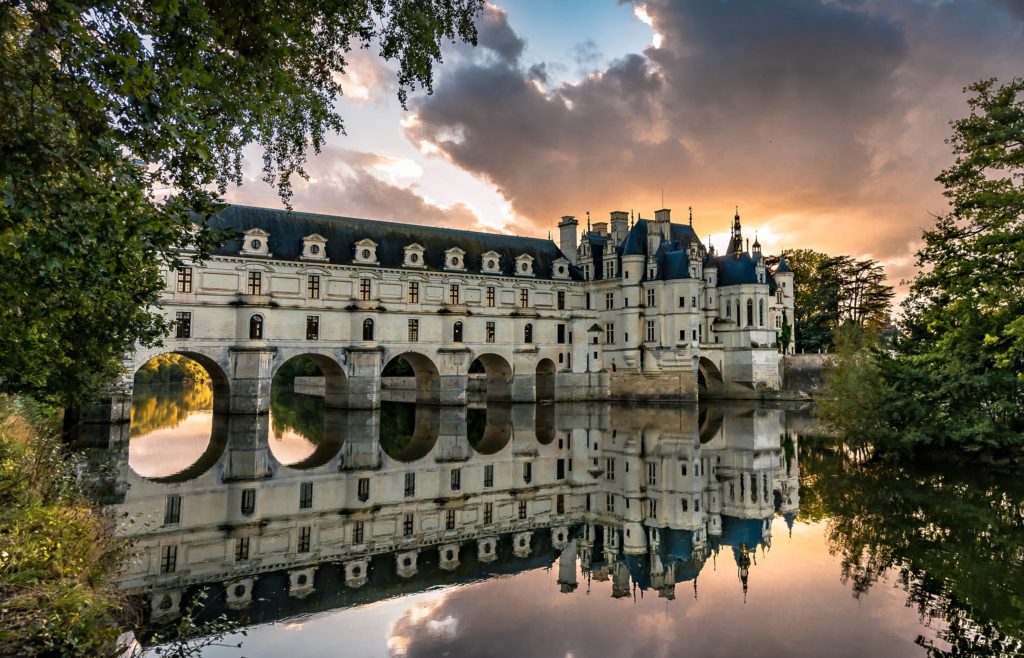 Article co-authored by Loren Emmanuel and Julie Chroust
Most people, when asked, state that they would want to live at home if they had a significant health event. When we are working, we can sometimes take advantage of Disability Insurance. But when we are retired, our options to pay for in-home care are limited to our investments and sometimes our home.
The cost for in-home care in California now ranges between $4,000 – $32,000 per month. This cost may require a "castle" raid. In other words, using either a Reverse Mortgage or Cash-Out Refinance. One recent case had a Fiduciary Officer at The ACE Fiduciary Group, A Non-Profit Corporation scrambling to help a very ill client secure funding for the in-home care needed. Julie Chroust of Bay Equity, Chroust Group provided the kind of service and analysis needed to bring in the critical funds. We asked her to co-author a brief overview of Reverse Mortgage vs. Cash-Out Refinance to provide some helpful information to elders or family looking for options. Please read her thoughts below.
There are many things to consider when doing a Reverse Mortgage vs. a Cash-Out Refinance. This can include the amount of equity in the home, income of the borrower(s), ages of the borrowers, and the specific needs of borrower(s).
When it comes to deciding which is best, seek a professional who can offer both as a Reverse Mortgage Consultant as well as a conventional lender. This will allow you to get a specific cost sheet to compare costs and cash from both options.
Reverse mortgages have special rules. In exchange they do not require monthly mortgage payments. A Reverse mortgage lender makes the decision primarily on the amount of equity remaining in the home after the financing is complete. This is calculated based on the age (life expectancy) of the youngest borrower/spouse. The equity that needs to remain in the home for a Reverse Mortgage is often greater than what would be needed for a cash out refinance.
Keep in mind that at least one of the borrowers must be at least 62 years or older to qualify for a reverse mortgage. If the borrower is married, the lender must use the youngest spouse's age as the means to calculate the equity remaining. In other words, the younger the spouse, the more equity that must remain in the home at the time financing is completed.
Below are some general guidelines that do not cover all situations. Making the right choice for your individual circumstances is not to be taken lightly. Consult with a professional about your options and understand how each loan will affect your future budget, and needs.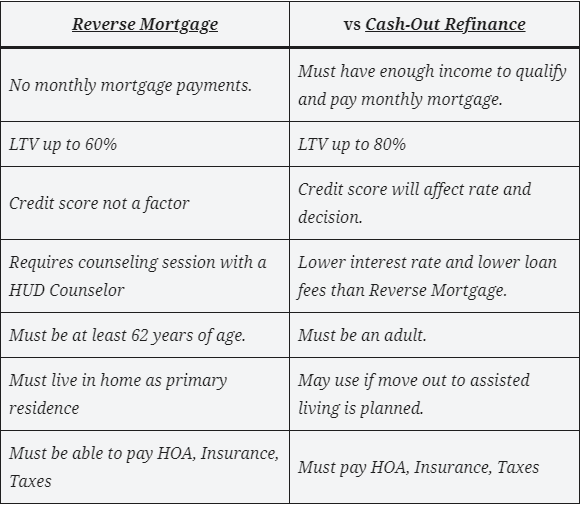 Contact Julie Chroust, jchroust@bayeq.com for more information or an analysis of your situation.
Julie Chroust, NMLS #249458
Bay Equity Home Loans. NMLS ID#76988
Important Licensing & Disclosures: https://goo.gl/srSZ30